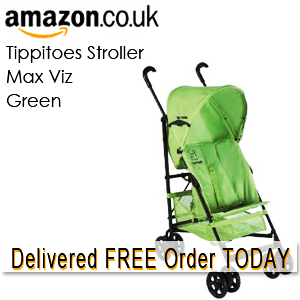 Tippitoes Stroller Max Viz
The
Tippitoes Stroller Max Viz
is one of the irresistible range with great choice and quality.
The Tippitoes appropriately names Max Viz will ensure your seen when out and about. Suitable from 6 months upwards (approx), when on the move the stroller benefits from swivelling wheels (lockable at the front), front suspension, multi positional backrest, 5 point harness and a footrest. Easily folded for when not in use,a carrying handle aids transporting.Additional as standard are shopping basket, removable hood and a rain cover.Available in two colour options Green and Orange
Read the Reviews, open Owner's Manual
or view the Videos...

FANTASTIC COLOURS FROM UK SUPPLIERS
Max Viz Product Information
Max Viz
The Tippitoes appropriately names Max Viz will ensure your seen when out and about. Suitable from 6 months upwards (approx), when on the move the stroller benefits from swivelling wheels (lockable at the front), front suspension, multi positional backrest, 5 point harness and a footrest. Easily folded for when not in use,a carrying handle aids transporting.Additional as standard are shopping basket, removable hood and a rain cover.Available in two colour options Green and Orange
* Available in various colours -
Move Purple
Fuse - Black
Max Viz
Max Viz Orange
Max Viz Pink
Move - Grey
Move - Pink
Move - Purple
Spark
Spark Brown
Charcoal
FANTASTIC COLOURS FROM UK SUPPLIERS FOR

THE Max Viz
---